Digital Camera Image Transfer Utility
---

DCITU allows you to perform the following tasks:
download the thumbnails from your digital camera
download the full image files from your digital camera
delete old images from your digital camera
---
Note:
Full support for thumbnails and deletions is not implemented for all digital cameras. All cameras listed as either "supported " or as "partially supported " have, at the very least, support for downloading the full image files.
---
The DCITU options notebook allows for many settings to be fine-tuned. These range from serial-port and camera specific settings, to 3rd-party scripts that can be plugged into DCITU.

Common 3rd-party scripts include RenamePics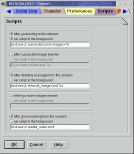 which can be used to search through image headers and rename the images according to the date & time they were taken.
DCITU can be configured to run a script on the following events:
when a connection is first established with your digital camera
after every successful image transfer
after every image deletion
when no more images remain in the camera (all images have been deleted)
after DCITU is disconnected from your digital camera
---

DCITU © 1997 - 2000, Stéphane Charette
DCITU © 2000, 2001, C Code Run (Inc.)
stephanecharette@gmail.com